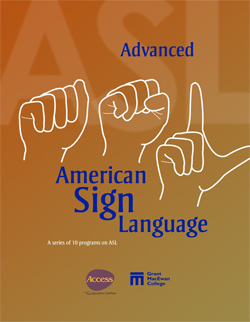 INCLUDES WORKBOOK WITH 3 VIDEOS
(DVD OR VHS)
Advanced American Sign Language
Take your knowledge of ASL to the next level with this series of Advanced American Sign Language training programs. This series utilizes the skills and techniques of performers and teachers with extensive experience in the Deaf community and Deaf education.
Each of 10 individual programs presents a lecture, signed by Angela Stratiy, that focuses on a significant facet of ASL. The lecture is followed by several stories signed in ASL by Deaf signers chosen to represent a variety of signing styles and regional signs within the Deaf community. Delve into the silent world of ASL and experience this complex and elegant language first-hand.
PART ONE > BODY AND GAZE SHIFT / CLASSIFIERS / SPACE

Each of these programs focuses on a key element of ASL, including identifying a narrator and characters of a story using Body and Gaze Shift; distinguishing between nouns, verbs, and adjectives using ASL Classifiers; and using Space in ASL to establish a location for a particular referent's discourse.
PART TWO > AFFECT / TRANSITION MARKERS / GRAMMATICAL STRUCTURE / DISCOURSE

Follow along with this next set of programs as the advanced techniques for ASL are augmented to include using facial expressions to show Affect in ASL; guiding the flow of discourse in ASL with Transition Markers; referring to a signer's entire signing space to identify Grammatical Structure; and specifying the topic(s) of Discourse.
PART THREE >SUBJECTS AND OBJECTS / FINGERSPELLING / NUMBERS

The last set of programs in this advanced series covers the following integral facets of ASL: identifying the Subject and Object of a sentence and the inclusion of spatial referencing; using contextual cues to enhance comprehension of Fingerspelling; and focusing on palm orientation and contextual cues when Numbers are signed in ASL. Available from Distribution Access, these programs are incorporated on three videotapes or DVDs. The series is accompanied by a workbook designed to assist learners in developing ASL skills through self-paced modules augmented by formal ASL classes. The combination of self-study and classroom instruction facilitates self-assessment and supports the development of essential skills for language learning.